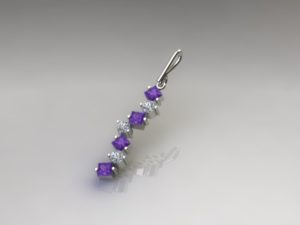 Stage lights won't be the only thing shining brightly on July 30th at the Purple Rose Theatre Company's 25th Anniversary event, Cue 25: Light's Up! Austin & Warburton, Ann Arbor's Engagement Ring Maker, has designed a beautiful, custom pendant for bidding at the event's Silent Auction!
Estimated at a value of $2,975, the piece features continuous casting to hold four .82ct princess cut, dark purple amethyst gems and three natural, round brilliant cut .51ct diamonds (color F, VS1), set in tumbling juxtaposition. The pendant hangs from a 1.5mm, 18in 14ct white gold foxtail chain.
Craig Warburton, head of Operations and Sales, explains, "We build everything we sell, and we only sell things we make. So it took us a couple of weeks to design and build the piece. The process of cutting the stones, making a wax mold, casting it, and putting it all together is quite involved, but it's what makes us different from other jewelers in the area."
Brenda Warburton, the jeweler behind the pendant, has received 4 Spectrum Awards, the highest honor in the jewelry business (equivalent to the Academy Awards for actors). Despite her enormous success in the industry, her unassuming demeanor proves her ego does not precede her.
Among Austin & Warburton's highest clientele are members of the de Toulouse Lautrec family, who bear relation to famous French impressionist painter Henri de Toulouse Lautrec. Brenda greatly enjoys the opportunity to work on precious family heirlooms and other historic jewelry pieces, such as a ring worn by King Louis XXIV.
The Purple Rose is very pleased to be featuring the Tumbling Blocks Pendant at Cue 25: Light's Up! and would like to thank Austin & Warburton for their generous contribution and support!