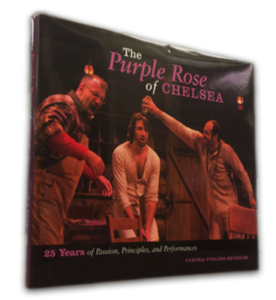 "We were flying by the seat of our pants," says Jeff Daniels, reflecting on the early days of The Purple Rose Theatre with a smile.
This holiday season, we invite you to give the theatre lover in your life the chance to fly behind the scenes, onto the stage, and into the lives of The Purple Rose family with "The Purple Rose of Chelsea," by Cynthia Furlong Reynolds. Autographed by Jeff Daniels, this commemorative, illustrated book celebrates 25 years of PRTC memories, premieres and theatrical triumphs.
From the pants-falling-down improv skit in sixth-grade that ignited his passion for performance, to the opportunities that led him to his Emmy award winning role on HBO's "The Newsroom," Daniels reflects on his career, both stage and screen.
Within the pages of "The Purple Rose of Chelsea," our resident artists will show you the ins and outs of what it took to mount some of our most memorable productions. Explore the worlds of set, lighting, sound, costume and properties design, and receive helpful advice from our industry experts. "Sound designers read scripts like a detective," says resident artist Tom Whalen, "searching for specific clues about the action that will take place on stage."
Artistic Director Guy Sanville also shares the ideologies and philosophies that serve as the foundation for the PRTC's passionate, professional work. "There are six things that actors want from a director," says Sanville. "Strong, positive leadership. Organization. Praise. Teaching. Discipline." To find out the sixth one, your autographed copy of "The Purple Rose of Chelsea" is waiting to be purchased in the theatre lobby or at www.purplerosetheatre.org for $25.00. Orders may also be placed by phone at (734) 433-7673. For a sneak preview of the many great photos featured in the book, explore the gallery below.
From our family to yours, we wish you a wonderful holiday season!