Featured Artist for June, 2012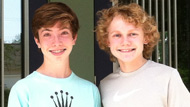 Ian Bejster & Milo Tucker-Meyer
Ian Bejster and Milo Tucker-Meyer are two pretty special kids. This summer, the boys are sharing the role of the precocious Billy Ray in our production of On Golden Pond. Both boys are making their professional acting debut with this show, and Marketing Director, Heidi Bennett took some time to get to know them a little better.
About The Boys
IAN BEJSTER started acting in grade school plays and has been in productions with Ann Arbor Civic Theatre and Wild Swan Theater, as well as a short film called Under Neon Lights. A sophomore at Dexter High School, Ian is a member of the concert and marching bands and the forensics club, as well as an active martial artist with a 3rd degree black belt in Tae Kwon Do and a 1st degree black belt in Hap Ki Do.
MILO TUCKER-MEYER began his acting career at age 7 in a production of The Who's Tommy at Pioneer High School. He continued with productions at the Burns Park Players, Pioneer High School, Tappan Middle School and the University of Michigan's Musical Theatre Department. A freshman at Ann Arbor's Community High School, Milo enjoys reading, writing, drawing cartoons, singing, making movies with his brothers, and hanging out with his friends.
The Audition?
Both Ian and Milo auditioned for the role of Billy Ray last summer. They had to come prepared with a one-minute monologue and also read a scene from the play. After getting cast, they had to wait almost an entire year before rehearsals started, but both boys agreed that the wait made it easier to schedule their summers and prepare for the experience.
Favorite thing so far?
When asked what was their favorite thing about working at the Purple Rose, both immediately cited the camaraderie with their fellow cast members. "It's a smaller cast than we're used to working with, and everyone is so nice and supportive," explained Ian. Milo pointed out that the other thing he likes is the small size of the theatre, "We've both done a lot of musicals and shows on big stages, like the Power Center (in Ann Arbor), where we had to make our gestures and movements really big. It's fun to be able to do smaller actions." Ian agreed, adding "it feels like a more natural style of acting, which is fun to do. I have gained so much knowledge, both personal and professional. It has really been a pleasure to work and learn from the vast talent from these wonderful mentors."
What's it like to share this role?
Milo and Ian are sharing the role of Billy Ray – meaning that the boys will alternate performances and took turns playing the part during rehearsals. They both explained that while this was the first time working like this, they really enjoyed it. "There was a little bit of friendly competition," explained Ian. "Not really, competition," clarified Milo, "more like when football players watch tapes of themselves so they know what they can do to get better." Ian conceded, and added that it was fun to see more than one interpretation. In the end, each boy brings his own personality and individuality to the role, but they've naturally come to a consensus on how each scene is played. They would watch each other in rehearsal, and then add or change certain behaviors until they organically came up with a similar portrayal. Both are looking forward to settling in to the role and being part of the show for the rest of the summer.
What does the future hold?
Ian and Milo expressed interest and desire in working at the Purple Rose again, and continuing their acting careers through high school. Beyond that? "I don't know, I'm only 14," gasped Milo. Though an acting career is appealing, neither is ruling out some kind of back-up plan. Ian is interested in medicine and becoming an anesthesiologist one day. (I assured 9th grade Milo that he has some time to figure it out.) In the meantime, they're just enjoying this experience. Ian added, "I can't show enough appreciation (especially to Guy and Michelle) for being selected to perform in On Golden Pond, and I know that I will benefit from this experience for the rest of my life. For me, this is truly an experience of a lifetime."
What's your favorite part of the show?
A unanimous answer: "Act 2, Scene 1."
Why?
It's a scene that takes place in the early morning, when Norman and Billy are supposed to go fishing. There are a lot of entrances and exits: characters looking around the house for each other, going out one door when the other person is coming in through another door. The boys enjoy the movement and physical comedy of the scene. Plus, they get to get wet! They come back into the house after a rainstorm, soaking wet. "We get sprayed down backstage with water, and they dunk our hats in more water," they explained. "Sometimes the water is cold, but it's really fun!"
It's been a joy to have Milo and Ian in the building and we're looking forward to a great run with them this summer.