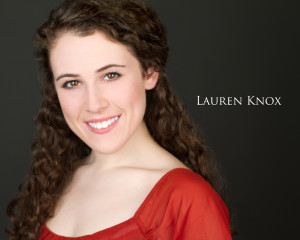 The Purple Rose Theatre Company (PRTC) cultivates its own talent in many ways, including: casting actors in their first professional role, nurturing new playwrights, and supporting emerging artists' directorial debuts. For Lauren (Knox) Mounsey, the PRTC has done all of the above.
Lauren began her relationship with the Purple Rose as an apprentice in the winter of 2012. In the following years, her credits at the theatre quickly grew to include actor, playwright, and most recently, director. When asked what inspired her to take a seat in the director's chair, she explained, "I've always been a director in some way. I got my first taste of it in college with 2 directing classes. I loved it! As a director, I was able to help my peers get to a certain place, to open up. Then I came to the Purple Rose to see "Bleeding Red", which was written by one of the actors in the show. Observing the way the Purple Rose supported artists working in more than one capacity was really inspiring."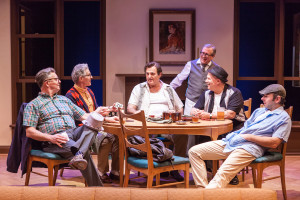 Through the Actor/Director Lab (a 10-week course at the PRTC open to actors and directors looking to enhance their dramatic skills) and a subsequent directing internship spanning two shows ("Annapurna" and "Talley's Folly"), Lauren continued to demonstrate her interest and abilities as a director. When the theatre's 25th anniversary season arrived, Artistic Director Guy Sanville and Literary Manager Michelle Mountain decided Lauren was ready to call the shots for "The Odd Couple". Neil and Annmarie Hawkins, (PRTC Board member and spouse) "Odd Couple" production sponsors, were also highly supportive of Lauren's directorial debut.
"The Odd Couple," a comedic tale of two suddenly single pals — a sloppy sportswriter and a neat freak news writer — who strain their friendship by turning roommates, runs now until Saturday March 26th, 2016.
From the first rehearsal to the final preview performance, directing this classic comedy was filled with growth and discovery for Lauren. "This experience has taught me that you can't be afraid to fail and make a mistake, because then you risk not finding the truth of some of the greatest lines. I had to learn to trust my gut. Guy told me many times, 'Go with your gut. Trust your instincts.' With his and Michelle's ongoing support, the process of making decisions became easier."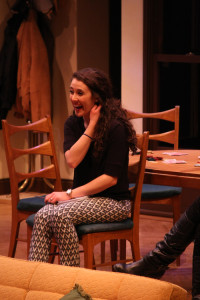 Plenty of fun was also had along the way. "Getting to watch the actors truly play every day cracked me up! The way they could be so sincere and so funny."
When she reflects on the diversity of her roles at the Purple Rose (from working backstage as an apprentice to directing her first show), Lauren says, "I now have a deeper understanding of how putting on a play works as a whole. No part is more important than another."
Looking ahead, she is excited to continue her involvement with the Purple Rose, both on stage and off. "I'm hopeful to direct again at the Rose, and excited to see what other opportunities arise." Her next directing credit will come from Wild Swan's adaptation of "Charlotte's Web", which runs Wednesday May 4th to Sunday May 8th, 2016 on Washtenaw Community College's campus.
Actor, playwright and now director, Lauren is "thankful that Jeff Daniels started the Purple Rose with the principle of growing our own, of finding people who you believe in and taking them with you. Guy did that for me. I couldn't have done this without his and Michelle's support, as well as the staff and apprentices at the Rose, and my friends and family. Thank you!"