The 2017-2018 PRTC Apprentice class arrived at The Rose in early August. Since then, they've hit the ground running, contributing to the preparations for our first show of the '17-'18 season, "God of Carnage" by Yasmina Reza. Artistic Director Guy Sanville refers to our apprentices as the "backbone" of the theatre. They assist with rehearsals, run sound and light boards backstage, build sets, and keep the building squeaky clean! Below are some quick facts to help you get to know each "vertebrate" of our "backbone!"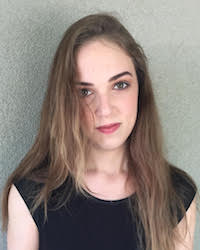 Erin Feiner
Hometown: Hackettstown, NJ  
Favorite Plays: "Othello" by William Shakespeare, "4.48 Psychosis" by Sarah Kane, and "The Consultant" by Heidi Schreck.
Apprenticeship Goal: I hope to adopt the conventions of professional theatre etiquette while learning to create and maintain steady theatre employment.
About: I received my bachelor's degree Cum Laude in Theatre from Grand Valley State University where I gained experience in every aspect of theatre, with particular focus in performance and wardrobe management. During my undergrad, I was a member of the National Theatre Honor Society, Alpha Psi Omega and received a Meritous Achievement Award from the Kennedy Center ACTF in Costume Design for the production of W.A.S.P.
After graduating in 2016 I earned a basic pass certification in unarmed stage combat through the Society of American Fight Directors under Michael Mueller. I also completed a wardrobe internship with NC Theatre in Raleigh, North Carolina. I learned of the Purple Rose Apprenticeship through a fellow GV alum and former PRTC Apprentice, Andrew Rocco Steward.
The Purple Rose's commitment to producing original works and cultivating a "commitment to the process, not the results," philosophy drew me most to this company. I am thoroughly grateful that I have been accepted into the 2017-2018 Apprentice Class and I will continue to work my tail off towards the success of my career, my fellow apprentices, and the Purple Rose Theatre.
Aidan Johnson
Hometown: East Lansing, MI – Go Green!
Favorite Play: "The Phantom of the Opera" by Andrew Lloyd Webber and Richard Stilgoe
Learning Goal: I'm a director first and foremost. For me, I want to be able to have knowledge in everything in order to more effectively lead a production.
About: I went to East Lansing High School but didn't do theatre until I supplemented my then Math major courses with an acting course at Kalamazoo College! I switched my major and the rest is history. Seeing "The Phantom of the Opera" on Broadway after High School inspired me to take the acting course and eventually led me here! If I had to choose another play as my favorite, it would be Rajiv Joseph's Gruesome Playground Injuries which I directed for my senior thesis at K college. Directing the production opened my eyes to all of the work required by so many people, and I'm excited to build on that experience at The Purple Rose.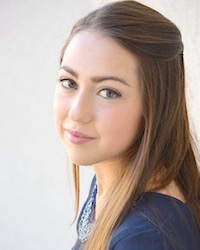 Miranda Lukens
Hometown: Las Cruces, New Mexico
Favorite play: "The Woodsman" by James Ortiz
Learning goal: To experience and understand the mechanics of a professional theatre company.
About: I am an aspiring actor, with a passion for musicals. After receiving my bachelors from New Mexico State University in Theatre Arts with a minor in Business Administration, I set my sights towards Michigan. I am thankful for the amazing opportunity to learn from the staff at PRTC. During my time at The Rose, I hope to grow as an actor, theatre professional, and individual.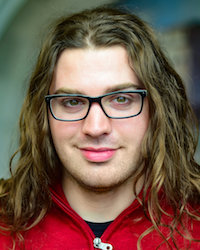 Jack Meloche
Hometown: Chelsea, MI
Favorite play: "Little Shop of Horrors" by composer Alan Menken and writer Howard Ashman
Learning goal: To learn how to build sets and operate power tools with confidence.
About: I studied at Michigan State University and graduated with BAs in Theatre and Media & Information. Some of my past shows include: Rock of Ages (Drew),Hair (Tribe), Thumbelina (Sound Design), Closer (Media Design), The December Project (Alex), The Music Man (Music Dir.), All Shook Up (Chorus), andAnnie (Drake).
I applied for the Purple Rose apprenticeship because it seemed to be the most well-rounded of the programs that I was looking at. I like how it gives the apprentices hands-on practice in many different areas, rather than focusing on just one. This gives them more experience, and is highly conducive to teamwork – which helps create better productions. After being away from theatre for a year (and badly missing it!), I consider it a great privilege to be creating art with such a wonderful group of people.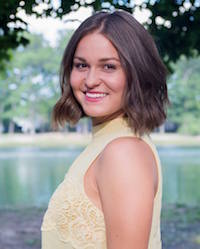 Christina Pinciotti
Hometown: Toledo, OH
Favorite Play: "The Importance of Being Earnest" by Oscar Wilde
Apprentice goal: I want to become more comfortable in areas where I lack experience.
About: I studied Theatre and Communications at the University of Toledo, where I was able to participate in a show every semester. Some of my favorite shows I've done were Twelfth Night, Cabaret, No Exit, and The Laramie Project.
I chose the apprenticeship at The Rose because I had a similar internship at HopeSummer Repertory Theatre during the summer of 2016. With all the experience I gained there, I thought I would make a good fit into the class at PRTC and it offered me the opportunity to expand further on the skills I developed that summer. I am looking forward to learning even more this year with a group of all new people. The best art comes from collaboration, and I can't wait to be a part of it all at the Purple Rose.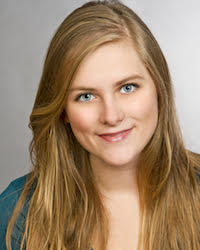 Dawn Purcell
Hometown: Pinckney, MI
Favorite play: "The Little Foxes" by Lillian Hellman
Learning goal: My top learning goal (as I have many) for the apprenticeship is that I hope to learn who I am in the world of theatre and what kind of artist I am.
About: When I was in 11th grade at Pinckney High School, my drama teacher took a group of students to The Purple Rose Theatre to see Streetcar Named Desire, and when the House Manager did her speech, she mentioned that she was an apprentice at the theatre. I told myself in that moment that I too would one day be an apprentice at The Rose. I graduated from Siena Heights University with a major in Theatre/Speech Communication with a focus in performance in 2016. This position has already become the most challenging and rewarding position I have had in my life, and I am thrilled and elated to be a part of The Rose family, learning, growing and experiencing the magic that occurs here day in and day out.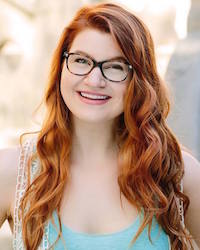 Hope Shangle
Hometown: Jenison, MI
Favorite play: "Who's Afraid of Virginia Woolf" by Edward Albee
Learning goal: I hope to learn the ins and outs of running an incredible professional theater.
About: Promptly after graduating from Jenison High School, I packed my bags and began my journey at the University of Cincinnati's College-Conservatory of Music where I earned my BFA in Dramatic Performance. After receiving my diploma, I lived in Los Angeles, Chicago, and New York which gave me a severe case of cultural whip-lash and homesickness. I spent most of my professional life working in various film industry positions but eventually decided it was time to return to my roots: theater. I am completely overwhelmed by the kindness and generosity displayed at The Rose and am very excited to discover the insights hiding in these hallowed halls.