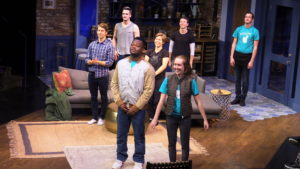 The Purple Rose stage is usually "dark" on Monday nights, meaning there is no performance taking place. On May 1, 2017, however, all stage lights were shining brightly for "Dark Night", an annual event where current PRTC apprentices had the opportunity to demonstrate the skills they've gained while working for The Rose.
Over the course of several months, the apprentices wrote, designed, directed and rehearsed a series of original one-act plays, which ultimately came together to form "Dark Night". Guy Sanville (Artistic Director) and Michelle Mountain (Apprentice Chief and Director of Educational Programming) coached the apprentices throughout the process, providing structured playwriting exercises and feedback, as well as guidance with directing and acting.
This year's plays included: "Hidden Fences" by John Stephens, a piece about two characters who are confronted by the consequences of the underlying racial biases they hold; "No Presence" by Kyle Kelley, a story of two siblings working through the loss of their father; "Pennies" by Devin Faught, a conversation between a brother and sister who realize neither of their lives are as perfect as the other thought; "The Experiment" by Connor Forrester-Hutchins, a comedic play about a man's exploration of his sexual preferences; "Without You" by Andrew Rocco Steward, which pins friendship and loyalty against love; "Gas Station" by Megan Wesner, a story of two strangers who help each other move forward in life; and "Coming Around" by Anna Doyle, an endearing comedy about a heterosexual son who "comes out" to his gay father. In June 2017, "Coming Around" will be featured in the lineup of original works at the Sandbox Festival, held at Tipping Point Theatre.
Apprentice Anna Doyle shared, "My favorite part of preparing for Dark Night was getting to wear all the hats: playwright, director, and actor. I got to write a one act play ("Coming Around"), listen to a table read of it, make some edits, pick my director, and help cast it. Then I stepped back from my playwright role and focused on the scene I would be directing ("The Experiment"). I did a lot of journaling and planning of ideas for rehearsals. Then, of course, once I was in the rehearsal room with the actors, those plans often changed and evolved based on what they brought."
Another apprentice, Connor Forrester-Hutchins, enjoyed the whole process, "planning it out, production meetings, light design, and the promotional video shoot. It was all a blast, but I'd have to say my favorite part of the 'Dark Night' preparation process was having the privilege of rehearsing with such a great group of people. I learned so much. I feel I now have a better sense of what to look for during rehearsal, what things we need to work on or change. When it comes to directing, doing is one of the best ways to learn, and having Guy and Michelle critique our work and guide us along our journey was a wonderful learning experience unlike any other I've had."
For all of the apprentices, preparing for and performing in "Dark Night" was an exciting challenge; one that taught them a great deal about working in the theatre industry and collaborating with fellow artists.
Congratulations, Apprentice Class of 2017, on a wonderfully successful "Dark Night"!