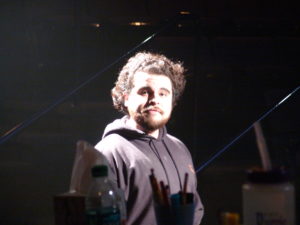 Communication. Anticipation. Artistic integrity. According to Purple Rose Theatre Company (PRTC) Stage Manager Thomas Macias, those are three areas of focus for any stage manager at The Rose.
After recently finishing his third PRTC show as production stage manager, Macias sat down with me to provide a behind-the-scenes look at what it means to manage a Purple Rose play.
"It kind of depends on where we are in the production," Macias says. "In rehearsal, the stage manager is the director's right hand person. So, communication is key. That means making sure the actors know what time they're supposed to be there, notifying people about changes to the rehearsal schedule and preparing any props that might be needed for that day. He or she also has to communicate between departments and designers, especially when a change has been made. Sometimes a change in costume choice can affect what the lighting designer does. The stage manager has to make sure everyone is on the same page."
"Anticipation is another big component," he adds. "From knowing what props will be used in the next scene during rehearsal, to finding a good starting page after we've stopped, the stage manager always has to know what's coming next."
Once a show is in performance mode, Macias' duties expand to include maintaining the artistic integrity of the production.
"After performances," Macias explains, "we give the actors notes based on what the director asked of them during rehearsals — not every day, but when it's needed. It keeps the show on track. If the show were a path in the forest, for instance, it's my job to make sure it stays within the posts of the path. It's natural for the show to be a bit different every day, but our goal is to consistently execute the essentials."
Prior to becoming an Equity stage manager at The Rose, Macias worked for four shows as a PRTC apprentice and then two shows as a stage management intern. "My whole experience here has been a lot like graduate school," Macias says. "I'm getting paid to learn and teach. I love the work I do, especially teaching our apprentices. Watching them succeed is really awesome. They come in as individuals and leave as a family. It's amazing how the culture and philosophies of The Purple Rose manifest in them."
Given his passion, commitment and talent, the same is true for Macias, too.