Test your knowledge of The Purple Rose by reading the 25 facts below!
1. Jeff Daniels spent 10 years working successfully as an actor in New York City before returning in 1986 to his hometown, Chelsea, MI. Five years later, in 1991, he would found the Purple Rose Theatre Company.
2. Lanford Wilson, a prolific director/playwright and one of the founders of the Off-Off-Broadway theater movement in New York during the mid-1960s, was a mentor to Jeff Daniels. Wilson is also regarded as The Purple Rose Theatre Company's (PRTC) godfather.
3. The Circle Repertory Theatre, where Jeff Daniels received some of his earliest professional acting opportunities, served as the PRTC's role model for developing talent and producing plays.
4. At different points in history, the building that now houses the PRTC operated as a livery stable, a car dealership, a bus garage and a pizza shop.
5. Jeff Daniels bought the original structure and property for the PRTC for $150,000.
6. The PRTC got its name from one of Jeff Daniels' early feature films, The Purple Rose of Cairo (1985), for which he received a Golden Globe nomination for Best Actor in a Motion Picture Musical or Comedy.
7. The Common Grill and Cleary's Pub, two of Chelsea's restaurant staples, came into being just after the PRTC opened its doors.
8. The PRTC's first production was a world premiere by Lisa A. Wing, "Blush At Nothing" (February 7-March 24, 1991).
9. PRTC Artistic Director Guy Sanville began his career at The Rose as an actor in the 1992 world premiere of "The Tropical Pickle," written by Jeff Daniels. Three years later Sanville was named Artistic Director.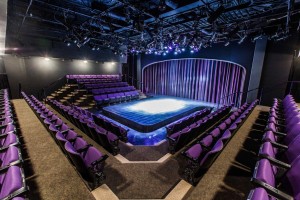 10. The PRTC building underwent renovation in 1999, increasing its seating capacity by 40%.
11. The seating capacity of the PRTC is now 168, with the stage featuring a thrust-style construction (meaning that seats are available on three sides of the stage).
12. The PRTC's annual auditions, which take place over one weekend in the spring, attract more than 180 actors a year.
13. Several PRTC Resident Artists have graced the Purple Rose stage in over 1,000 performances, including: Wayne David Parker, Michelle Mountain, Jim Porterfield, Rhiannon Ragland, and Tom Whalen.
14. More than 500 actors have appeared on the PRTC stage.
15. The PRTC apprentice program employs 7-8 recent college graduates a year, all of whom aspire to learn more about every aspect of professional theatre.
16. Purple Rose apprentices receive opportunities to learn the trades of set construction, costume design and maintenance, lighting and sound design, stage management and front of house management. Occasional opportunities to understudy are given as well.
17. Today, over 150 burgeoning theater professionals have graduated from the theatre's Apprentice Program.
18. Many members of the PRTC staff actually started out as apprentices, including Julia Garlotte (Box Office Manager), Adair Whalen (Administrative Assistant), Katie Doral (Managing Director), Amy Klain (Company Manager), Nathan Magyar (PR and Marketing Intern), and Thomas Macias (Stage Manager).
19. The PRTC offers classes for playwriting, acting (contemporary and Shakespeare), directing, and teen acting.
20. In 2014, the PRTC budget hit $2.1 million dollars, a significant increase due largely to rises in actors' salaries and the costs of running the business.
21. Every year the theater must sell over $1 million worth of tickets to go towards its operating budget.
22. Currently, fifty percent of the theater's operating budget comes from fundraising opportunities, which are sought out by Director of Development, Gerie Greenspan.
23. Over the past 27 years, the PRTC has produced more than 100 plays, including nearly sixty world premieres.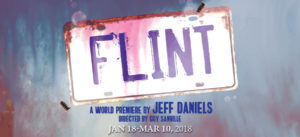 24. Of those world premieres, Jeff Daniels wrote sixteen! His upcoming play "FLINT" will make seventeen!
25. The PRTC has been recognized for excellence by the American Theatre Critics Association, the National Endowment for the Arts, Actors Equity Association, the State of Michigan, the Shubert Foundation, and the Edgerton Foundation (just to name a few).
To learn more about the history, development and mission of the Purple Rose Theatre Company, we invite you to purchase "The Purple Rose of Chelsea: 25 Years of Passion, Principles and Performances" by Cynthia Furlong Reynolds! For purchasing information, please contact the PRTC Box Office at (734) 433-7673 or visit this link.