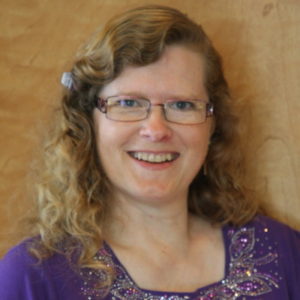 Having been a Properties Designer at The Purple Rose for more than 25 years, Danna Segrest is well accustomed to the challenge of finding obscure objects for productions. Since beginning her work on "Smart Love," a world premiere by Michigan playwright Brian Letscher now being staged at The Rose, her latest quests have sent her in search of a collector's edition Lego set, a model solar system, pillows, and more. "As a new play, it's being written as we go," Danna explains. "Lots of changes get made to the script, which keeps us designers on our toes."
Danna is a graduate of Michigan Stage University, where she studied theater and communications. After college she apprenticed at Northville's Marquis Theater, then pursued a day-job in public relations while staying active in the theater world in the evenings. When word got out about Jeff Daniels' plans to open a professional theater in Chelsea, she called co-founders Doug Beaumont and Bart Bauer, offering to help however she could. Little did she know this one-time volunteer gig would ultimately turn into a full-time career.
Over the years, Danna has worn many hats at The Rose, from Equity Stage Manager, to box office ticket agent, archivist and props master. And it is precisely this breadth of skills and knowledge that makes her an invaluable member of the PRTC production staff. Through a combination of personal networking, persistent searching and discussion with production team members, Danna helps a play's director and playwright make their vision a reality.
"'Smart Love' specifically calls for a 1980s Millennium Falcon Lego set," Danna shares, "which at this point in time is a past collector's item—no longer available in stores and not even a regular collector's item. And it's worth thousands of dollars. Encountering these kind of obstacles make my work so fun and interesting. Not only do I have to satisfy what the playwright needs, but I have to do it within a given budget."
The solution to the Millennium Falcon Lego set challenge, it turned out, was Facebook. A simple inquiry to her online friends produced not one, but two leads, from Terri Czarney Fisher, a former PRTC apprentice, and Stephanie DeWeese Celkis, who did hair for the movie, "Escanaba in da Moonlight."
"I try not to make prop requests on Facebook too often, " says Danna. "I don't want to bother people. My first step for finding any prop is to consider what we have in storage. For example, there's one chair that's made it through three or four Purple Rose productions! We just reupholster it each time. I also reach out to other theatres and local businesses. Merkel's Furniture and Heydlauff's Appliance here in town have generously donated many set pieces over the years, including sofas and kitchen appliances."
When she wasn't busy tracking down the vintage Lego set and other items, Danna prepared for "Smart Love" by discussing the play with other designers, the director and playwright. "As a props designer, I have to think of every detail. I have to ask myself and other folks, 'What kind of model solar system fits the character and the play? What does the box it comes in look like?' How should we doctor it up to make it look more like what the playwright is envisioning?'"
She added, "The play takes place in the present but it's set in a 1980s-era house that's going through a renovation. So we have to think, 'What does that look like? What's new and what's old in the house? What kind of kitchen appliances, utensils and other set dressings do we need?'"
Particularly when working on a new play, the answers to all of these questions change quickly and often. "Things have evolved as we've learned more about the characters," Danna explains. "But that's the fun of it. Working on 'Smart Love' has been an awesome opportunity. The characters have such interesting dynamics and stories. And the play does a great job of asking broader questions. It makes us ask ourselves, 'How do we handle the technology that we have?' "
Tickets to "Smart Love" can be purchased online or by calling the PRTC Box Office at (734) 433-7673. The run of the show concludes on March 4.
For more inside stories and behind-the-scenes glimpses, we invite you to purchase a copy of "The Purple Rose of Chelsea," The Purple Rose's limited edition, commemorative 25th anniversary book autographed by Jeff Daniels.