The Legend of the White Buffalo Woman
by Rainbow Dickerson
Rainbow is making her PRTC debut as "First Woman" in White Buffalo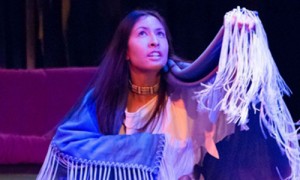 The legend of White Buffalo Woman was not new to me. I knew of its beauty, depth, and universal significance; but I didn't know how much it would personally affect my life when I signed on to do this play at the Rose. Events come into your life to teach you something, and if you are open to them, they will unfold a string of experiences that will change your world.
For those of you who are not familiar with the White Buffalo Woman story, here is a brief version as I know it . . .
It begins a very long time ago, at the beginning of our First World, Tokpela, 'Endless Space.' When our Mother Earth was formed into her glorious self and all living beings, plants, animals, minerals, humans, could speak easily together through the language of collective consciousness. It was a time of great beauty, peace, joy, and a place where magic and imagination was a part of everyday existence.
Eventually the first world came to an end and we emerged from inside the earth into the Second World, Tokpa, 'Dark Midnight.' Here humans separated themselves from the animals and other beings, losing a sense of connectivity to All That Is. After a while this world too came to an end, and we once again emerged into the Third World, Kuskurza,(its meaning has been lost over time.)
In this world human beings multiplied and advanced very rapidly, creating huge civilizations and forgetting the ways of sacred balance. So eventually this world also came to an end. Which brings us to the beginning of our current world, the Fourth World, Tuwaqachi, 'World Completing.'
We were told that this world would not be as beautiful and easy as previous ones. It would have height and depth, heat and cold, beauty and barrenness, everything for you to choose from. Most have chosen to divide themselves from one another, so much so that we can no longer hear our Mother Earth, or our one legged, four legged, no legged, and at times even other two legged brothers and sisters. It was at the beginning of our current world that a girl was born. This girl was the same as you or I, with the same capabilities, except she was raised close with the teachings of Mother Earth, Father Sky, and of wise elders and relations who remembered the magic and ways of peace from the old worlds.
She grew, and listened with her heart to all of her guides, and eventually dissolved any imaginary barriers between herself and All That Is. She could easily communicate with all life. She could move around in what we call 'time.' She could step into the experience of any being who was willing. She could manifest anything she could imagine. She was given much knowledge, including how to create sacred tools and ceremonies that would assist all beings in communicating peacefully with one another, in remembering ancient wisdom, and in living harmoniously with all beings.
She traveled the Earth as human, as bird, and as buffalo, to bring this knowledge and wisdom to any who wanted to receive it. As she would depart to continue on her journey, she would tell everyone that she would return as a white buffalo to signify their progress toward unity and to herald a time of great change and peace, a time when we would move into our Fifth World, the "New Earth."
White Buffalo Woman has been returning to deliver these signs for almost two decades now. We are literally in the middle of this magnificent time of change. We are returning to an existence where all beings can easily communicate once again, where our Mother Earth will be whole and beautiful, where magic, harmony, and creative manifestation will be common place. Every religion and culture has their own knowledge bringer, wisdom keeper, and legends; and they are all saying the same thing. All of them. It is an exciting time to be alive. Our whole planet, and everything on her, is shifting into a new plane of existence. We are at this moment helping to create this new world. Why not make it as beautiful and loving as we can imagine! We are the ones we've been waiting for.
"So I better get to putting good thoughts and love out into the world," I said to myself. That meant I had to get myself out of the ruts I put myself in. You know, the stuff (relationships, jobs, mind sets, behaviors) that you learned from or grew with, but you know is no longer good for you, yet you "stick with it" anyway. A rut. A repetition of experiences that don't feel good. Everything changes, evolves, and it's a lot more fun to go with it — and better yet to steer it — rather than get stuck. I was my own worst enemy, holding on to the past. The only one keeping me away from all I really wanted was me.
I had developed physical manifestations of the baggage I needed to abandon. My body was sick and I developed habits of distracting and occupying myself with work, television, and worry. I realized my health problems and habits would keep getting worse until I learned the lessons I set out to teach myself. I had to let go of doing things out of obligation or distraction and instead to focus on myself. I had to stop worrying about what other people thought of me and also stop judging others. I had to put ego aside and understand that I do not know "what's best" for anyone else but myself.
This is very much like what some of the characters in our play had to learn. So our play honors this legend in two ways. First by pointing out that a white buffalo calf has really been born, and that a time of change is upon us. Second, through the example of the characters in the play; the journey that they have to make to forgive, let go, and move towards unity, love, and harmony. At the end of the play, after the characters start moving in this direction, you get the sense that new worlds and positive experiences will now be open to them. This is exactly what I found in my own experience.
After a short while, a massive amount of information about myself, our planet, and our universe came flooding in. Things were starting to get clearer the more I lived from the heart. I experienced an influx of knowledge about unity, vibration, consciousness, and many other subjects along these lines. The most meaningful things for me to hear, or see, just seemed to be finding me. Or more accurately, I was attracting them — a pouring in of like-minded beings, a sense of universal connectivity through travel and encounters, a reawakening of myself. A presentation of things I had been asking for, big and small started to unfold. I understand now that my reconnection to this legend and aspects of the characters in the play are all reflections of what I need and want to learn.
We are moving into a new world, and it doesn't have to be all apocalyptic and scary like some movies show. All we have to do is start living from the heart and letting go of all the emotional baggage that weighs us down. The change can be easy and beautiful. Release habits that no longer serve you or that keep you repeating the same unwanted experiences. Take off the chains of right and wrong, good and bad, reality and imagination. Abandon the focus on 'survival' and begin believing in ease and unity. Shed the confines of judgement, dependence, worry, and fear. Ask less from others and more from yourself. Start reconnecting to yourself and to Mother Earth. Start reaching for thoughts and experiences that feel good. This is the only effort that is required of us.
And I can tell you this, the effort gets easier. If you reach for a joyful and loving thought, you will feel joyful and loving. Then its easy for joyful and loving experiences to find you. Then because you feel joyful and loving, you keep practicing those thoughts, and those thoughts become a belief. Then the belief becomes so strong it creates your reality. Then you wake to find yourself in a joyful and loving new world.
Below are some references for you on a few of the different topics we touched upon here, in case you want to scope things out a bit more. I am always happy to chat about something mentioned here, or point you toward more information personally if you want to contact me through the theatre. Be well friends.
White Buffalo Woman and Native American wisdom:
A trilogy of novels by Heyoka Merrifield (Eyes of Wisdom, Painted Earth Temple, Lying Down Mountain)

The Book of the Hopi by Frank Waters
Earth changes:
Message for the Tribe of Many Colors by Little Grandmother, Kiesha Crowther
Little Grandmother – http://www.youtube.com/watch?v=vv83H4evKiM
The Way of Life in the Fifth Dimension
Living from the heart and Self growth:
Ask and It Is Given by Esther and Jerry Hicks
Drunvalo Melchizedek – http://www.youtube.com/watch?v=oNZQbdFxKvE