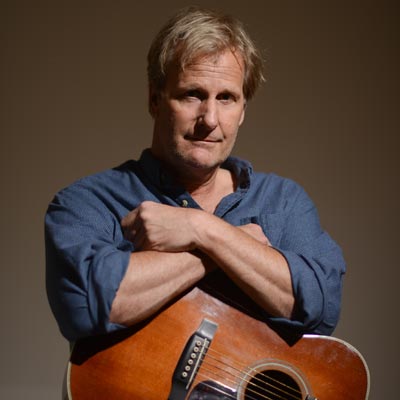 Advanced Donor Sales (for members of the Playwright Circle and donors of $250+) begin Thursday November 30 at 10:00AM*
General Ticket Sales begin Thursday December 7 at 10:00 AM.
Founder of the Purple Rose Theatre Company, Daniels will perform a family-oriented set of songs that create both hilarious and tender moments. The lineup features crowd favorites from his albums "Live at the Purple Rose," "Grandfather's Hat," "Together Again," "Keep It Right Here," "Days Like These," and his most recent album, "Simple Truths".
In conjunction with his son Ben and the Ben Daniels Band, Jeff Daniels recently concluded an acoustic tour around 22 midwestern cities, 13 of which were in Michigan. Just last Wednesday, November 22, Daniels premiered in the Netflix original series "Godless" alongside Jack O'Connell and Michelle Dockery. He will also star in Hulu's 9/11-focused original series "Looming Tower," set to release in early 2018. His recent stage and screen accolades include a 2016 Tony Award nomination for Best Leading Actor in "Blackbird" and three Emmy nominations, one of which he won for HBO's "The Newsroom."
Performance Schedule & Ticket Prices
Wednesday, December 27
Wednesday, December 27
Thursday, December 28
Friday, December 29
Saturday, December 30
Saturday, December 30
Sunday, December 31
2:00 PM
7:00 PM
7:00 PM
7:00 PM
3:00 PM
8:00 PM
7:00 PM
$78
$78
$78
$78
$78
$78
$88
Wednesday, December 27 – 2:00PM – $78
Wednesday, December 27 – 7:00PM – $78
Thursday, December 28 – 7:00PM – $78
Friday, December 29 – 7:00PM – $78
Saturday, December 30 – 3:00PM – $78
Saturday, December 30 – 8:00PM – $78
Sunday, December 31 – 7:00PM – $88