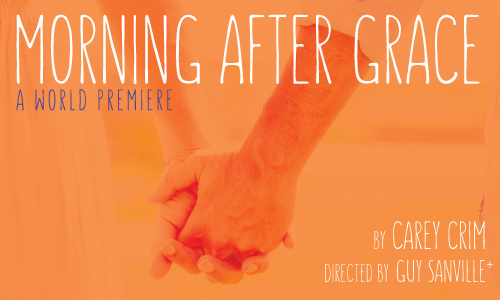 September 29 – December 17, 2016
A World Premiere by Carey Crim
Angus and Abigail meet at a funeral and are surprised to wake up together after a wine-fueled one night stand. While Abigail may finally be ready to take a chance on love after her husband left her years before for a younger model, Angus, it turns out, has a few issues of his own to work through first. When neighbor Ollie (a former baseball player with secrets of his own) shows up on a walker, confusion and chaos ensue. Can these three find a way to connect with their individual pasts in order to construct a brighter future? Join us for this hilariously touching world premiere comedy.
*Contains adult language.
Donor Sales begin August 8, 2016
General Sales begin August 22, 2016
Ford Fridays: October 28 & December 2, 2016
Directed by Guy Sanville
CAST:
Randy Mantooth

Michelle Mountain
Lynch Travis
PRODUCTION STAFF:
Set Designer: Bart Bauer

Properties Designer: Danna Segrest

Costume Designer: Shelby Newport

Lighting Designer: 

Dana White

Sound Designer: Tom Whalen

Stage Manager: 

Thomas Macias

Assistant Stage Manager: Angie Kane Ferrante
Assistant Director: Rhiannon Ragland
Directing Intern: Josh Chamberlain
Directing Intern: Dan Shefer
PHOTO GALLERY
Coming soon!
PRESS RELEASE
Coming soon!